Regular price
Sale price
$46.00
Unit price
per
Sale
Sold out
Description
How to Use
Ingredients
Our two favorite products and top sellers in one bundle? No way!
Yes, it is true. With just one click of a button you can now get a 4 month supply of Peppermint Toothpaste Tablets and the Peppermint Mouthwash Concentrate Starter Kit.  Subscribe too, and get refills for both shipped every 4 months. 
Toothpaste Tablets: Plastic-Free Canary toothpaste tablets are an easy, sustainable way to brush your teeth at home, office, or when traveling. They gently freshen your breath while removing light surface stains. The reusable glass jar is meant to be refilled over and over again in an effort to help rid our landfills of additional plastic waste. When you subscribe, we'll send you a 100% compostable refill pouch every 4 months. This Peppermint flavor is a balanced flavor of bold mint without being too harsh. Formulated to create the longest lasting freshest breath. 
Mouthwash Concentrate: Plastic-Free Canary concentrated mouthwash is another easy, sustainable way maintain fresh breath and healthy oral care. We formulated a potent concentrate in order to reduce shipping waste and increase energy efficiencies by avoiding shipping extra water weight around the world. This formula, once mixed with fresh water tastes great and leaves your breath kissably-fresh. The reusable glass mixing bottle in the kit is meant to be refilled over and over again to reduce the amount of plastic pilling up in our landfills. 
No plastic
Vegan and Cruelty-Free
No parabens and no sulfates
No aspartame and no gluten
Fluoride-Free
No artificial sweeteners or colors
Made in the USA
#purgeplastics
Tablets:
Place 1-2 tablets in mouth and crush with your teeth. Brush with a wet toothbrush for two minutes. Rinse thoroughly and enjoy a bright confident smile. Brush twice daily.

Mouthwash:
**Do not use until diluted.** Mix entire contents with 14-16oz of water. Take a sip and vigorously swish about 2 teaspoons (or 8ml) in your mouth for a minute then spit. Use twice daily after brushing with Canary toothpaste tablets. Enjoy the world with confident breath.
Xylitol
Erythritol
Natural Peppermint Flavor
Xanthan Gum
Microcrystalline Cellulose
Menthol
Sorbitol
Calcium Phosphate
Magnesium Stearate
Stearic Acid
Nano-hydroxyapatite
Calcium Bentonite
View full details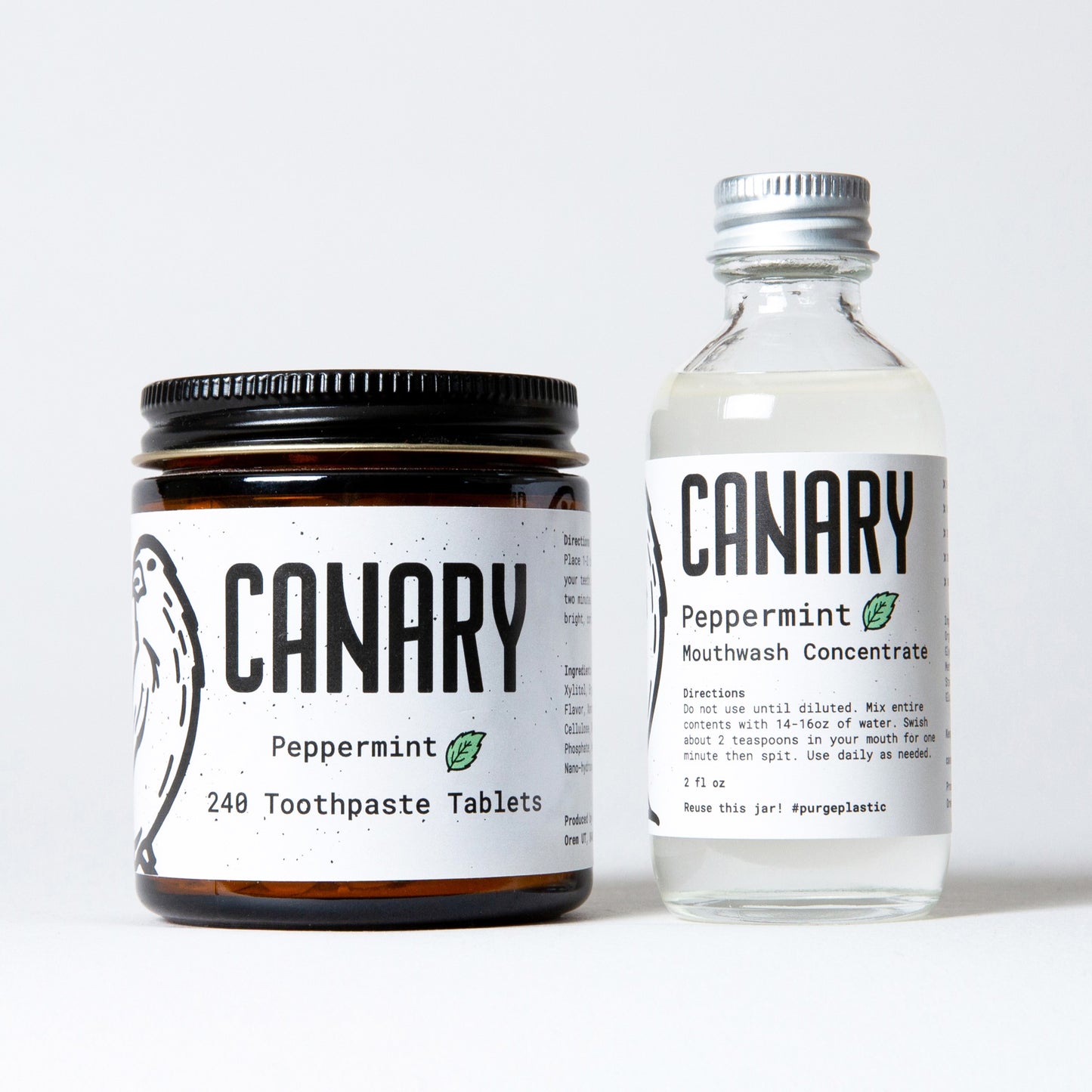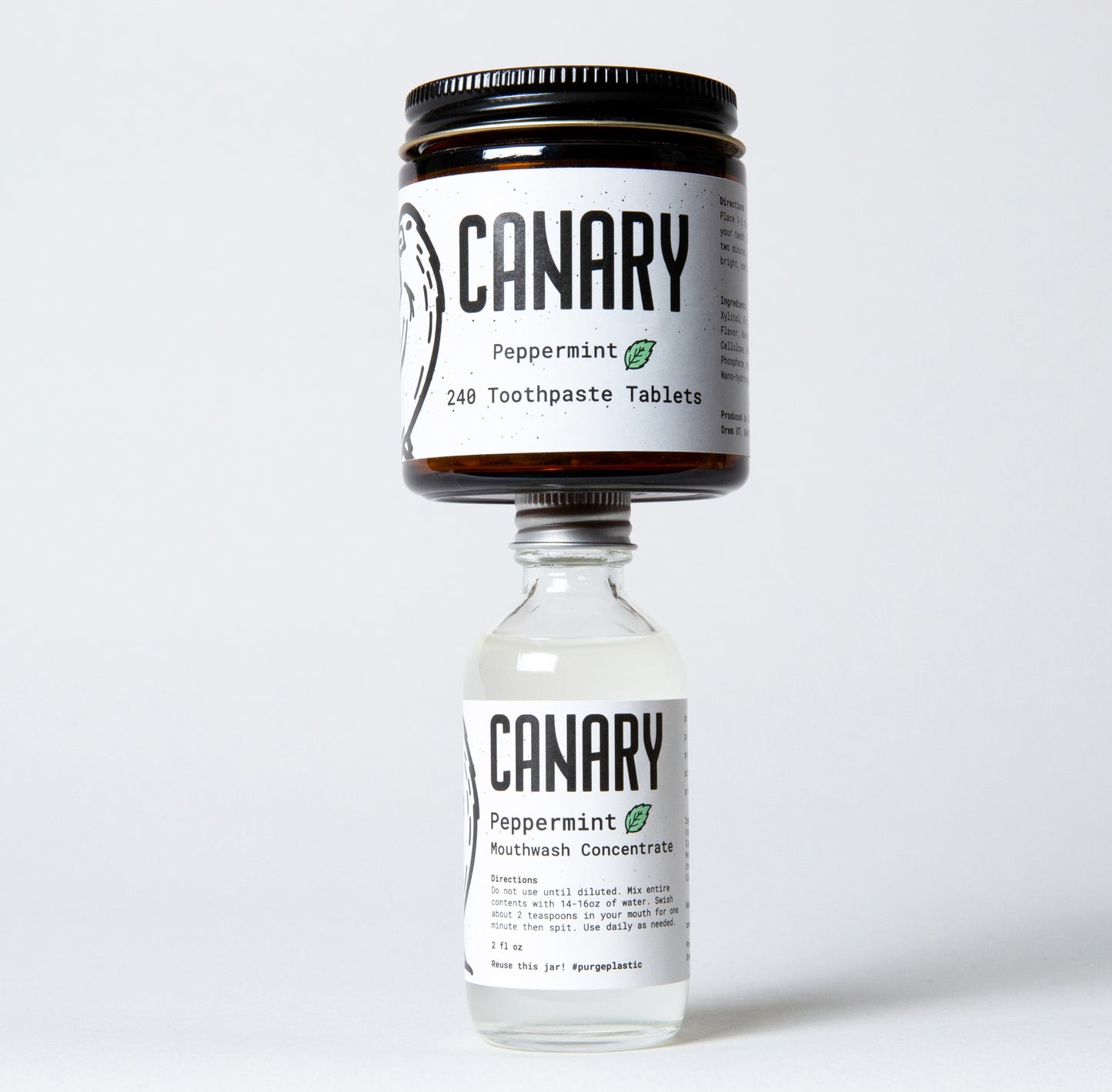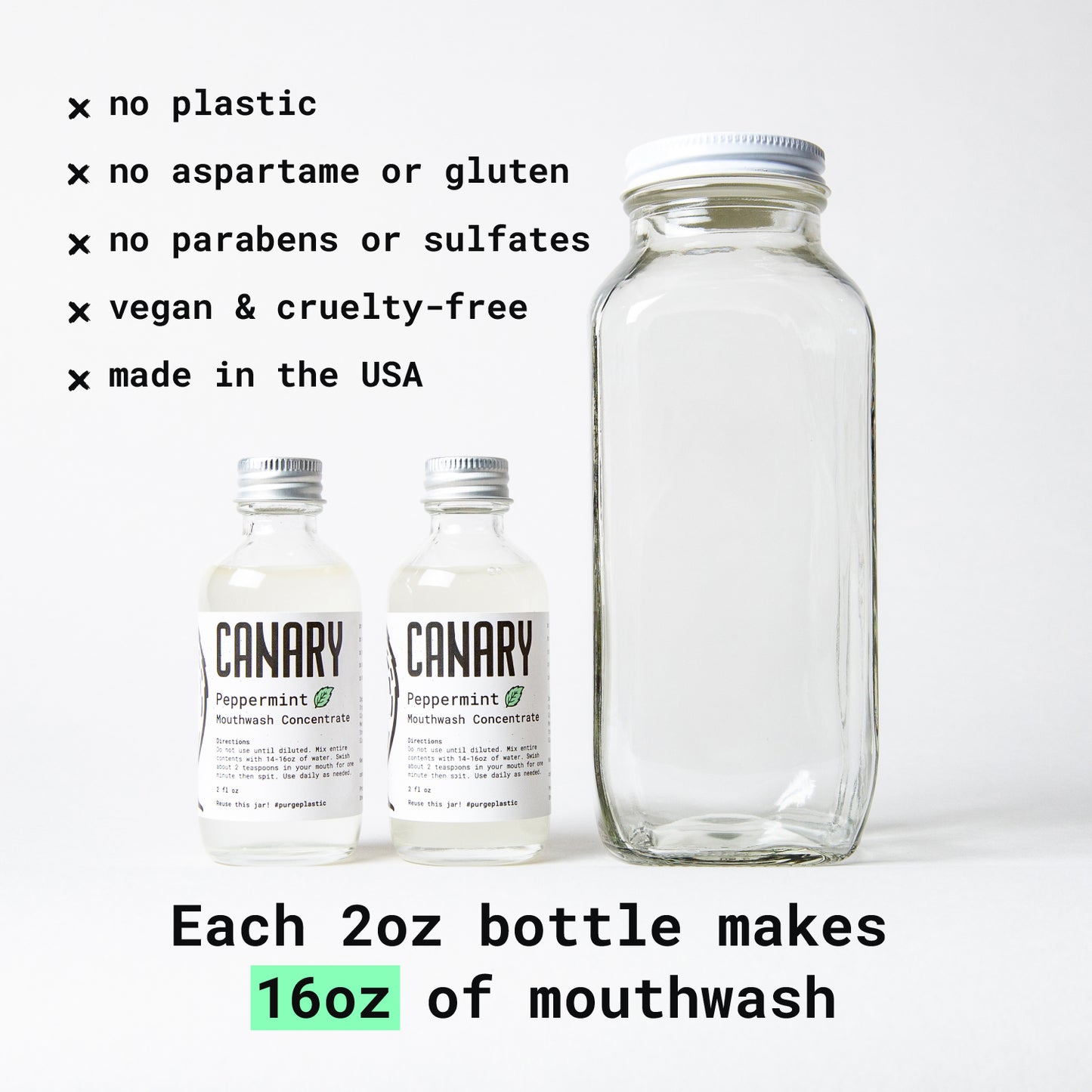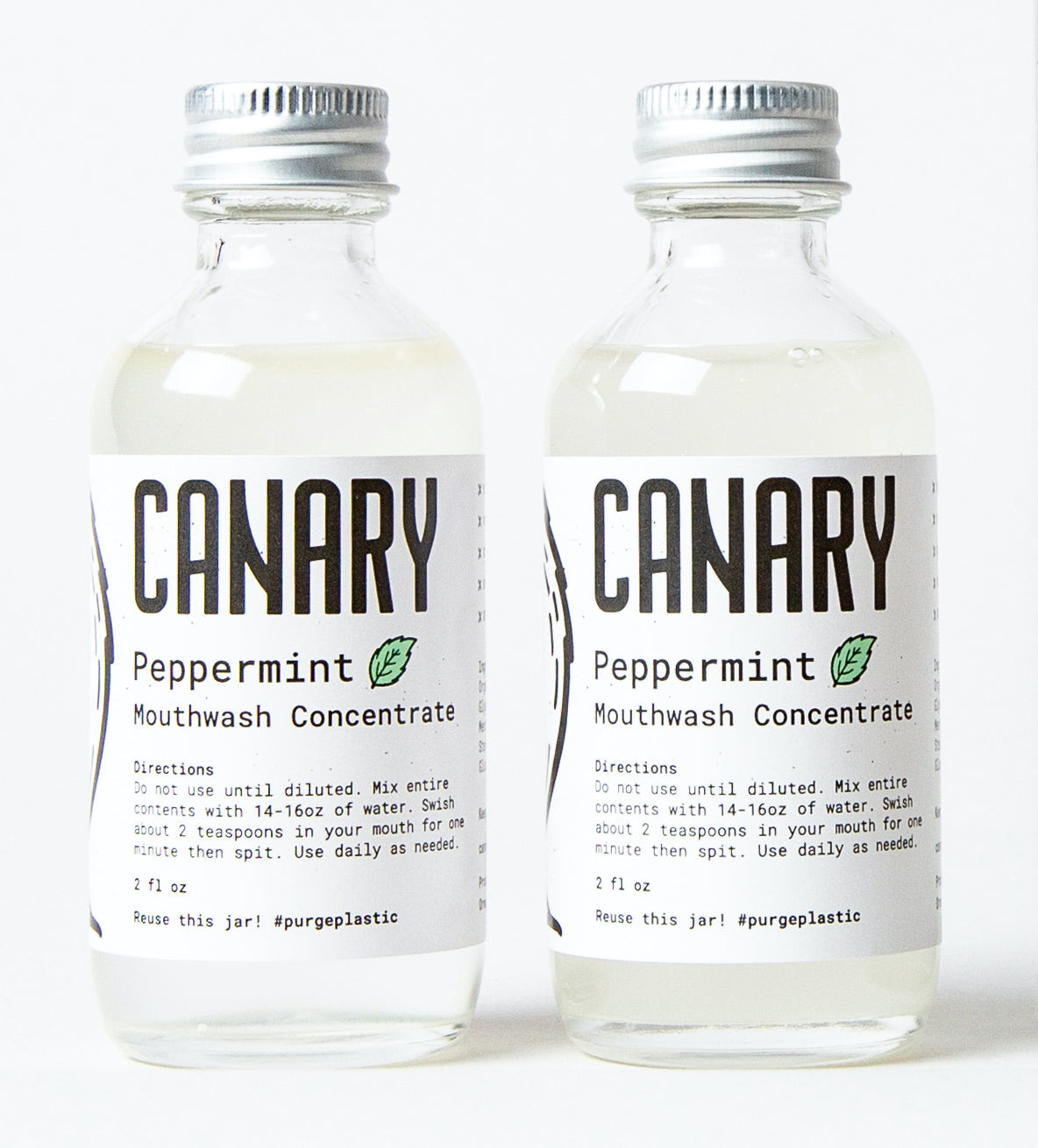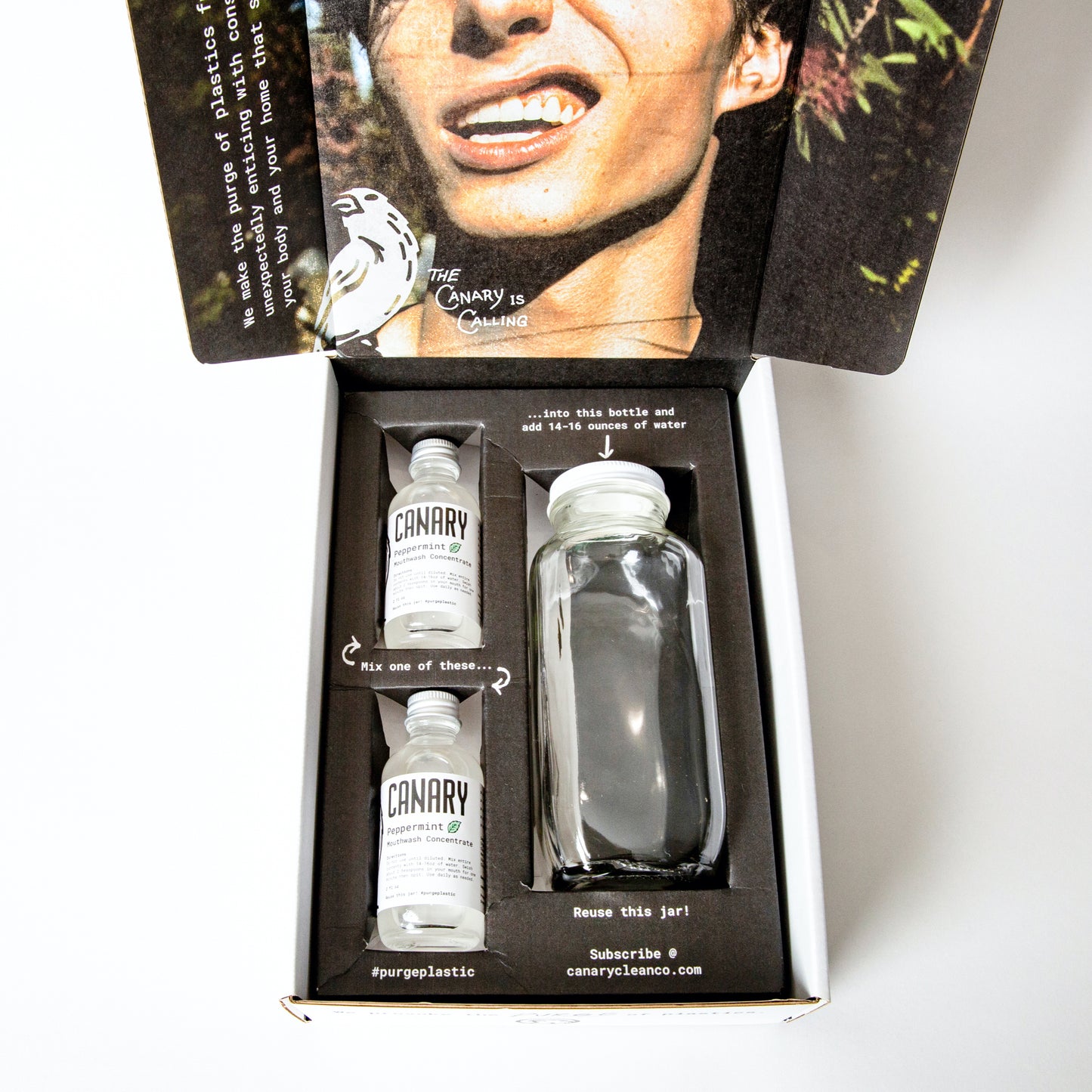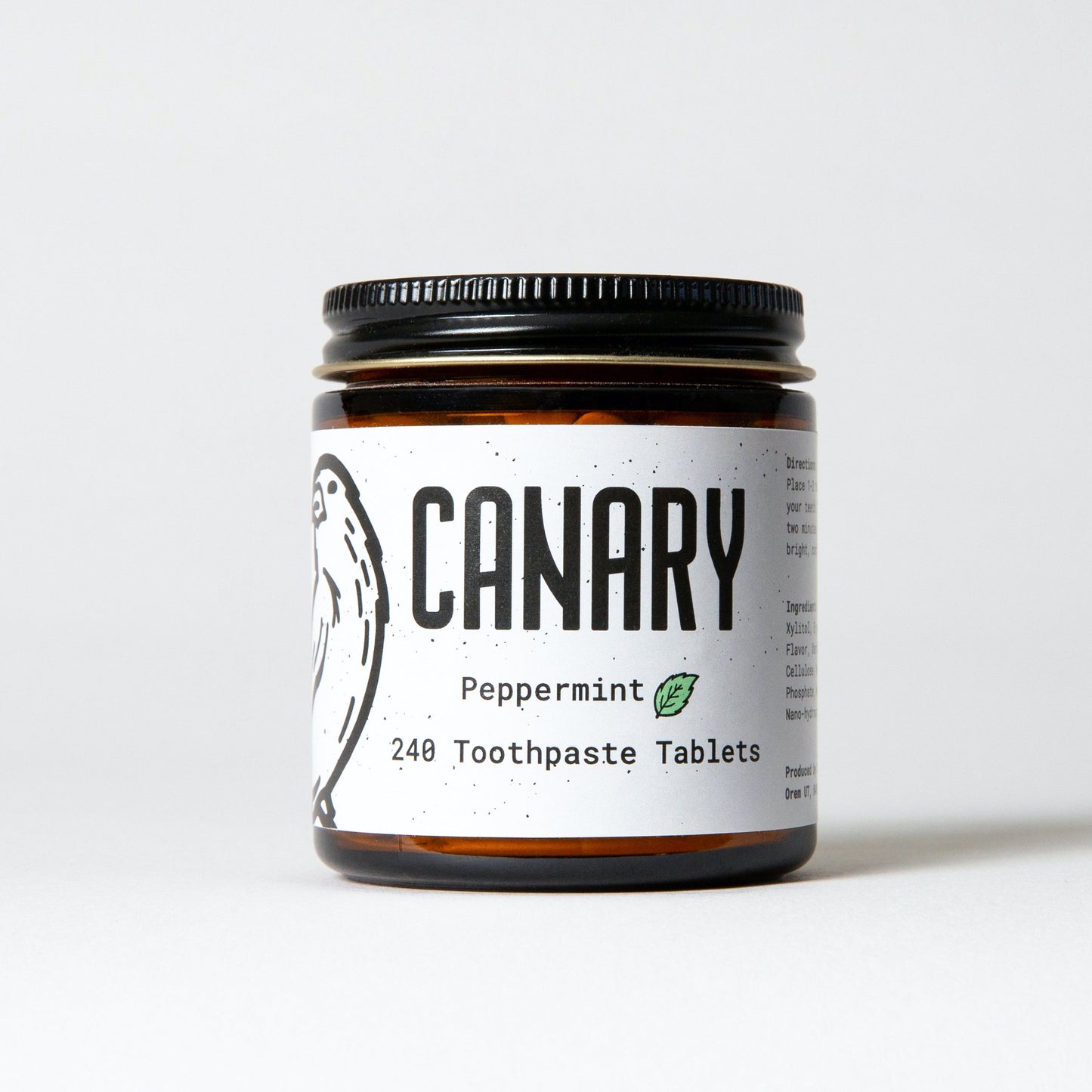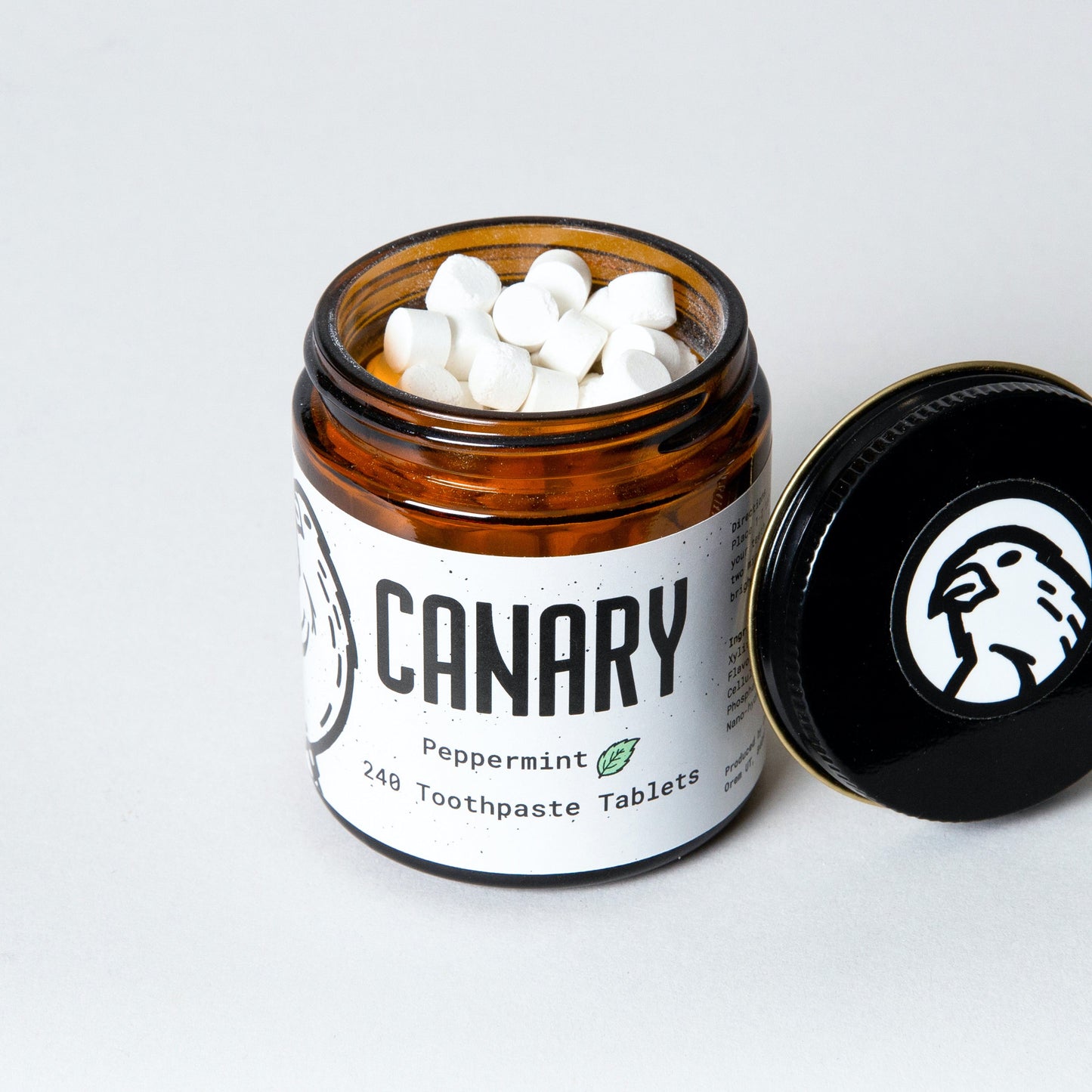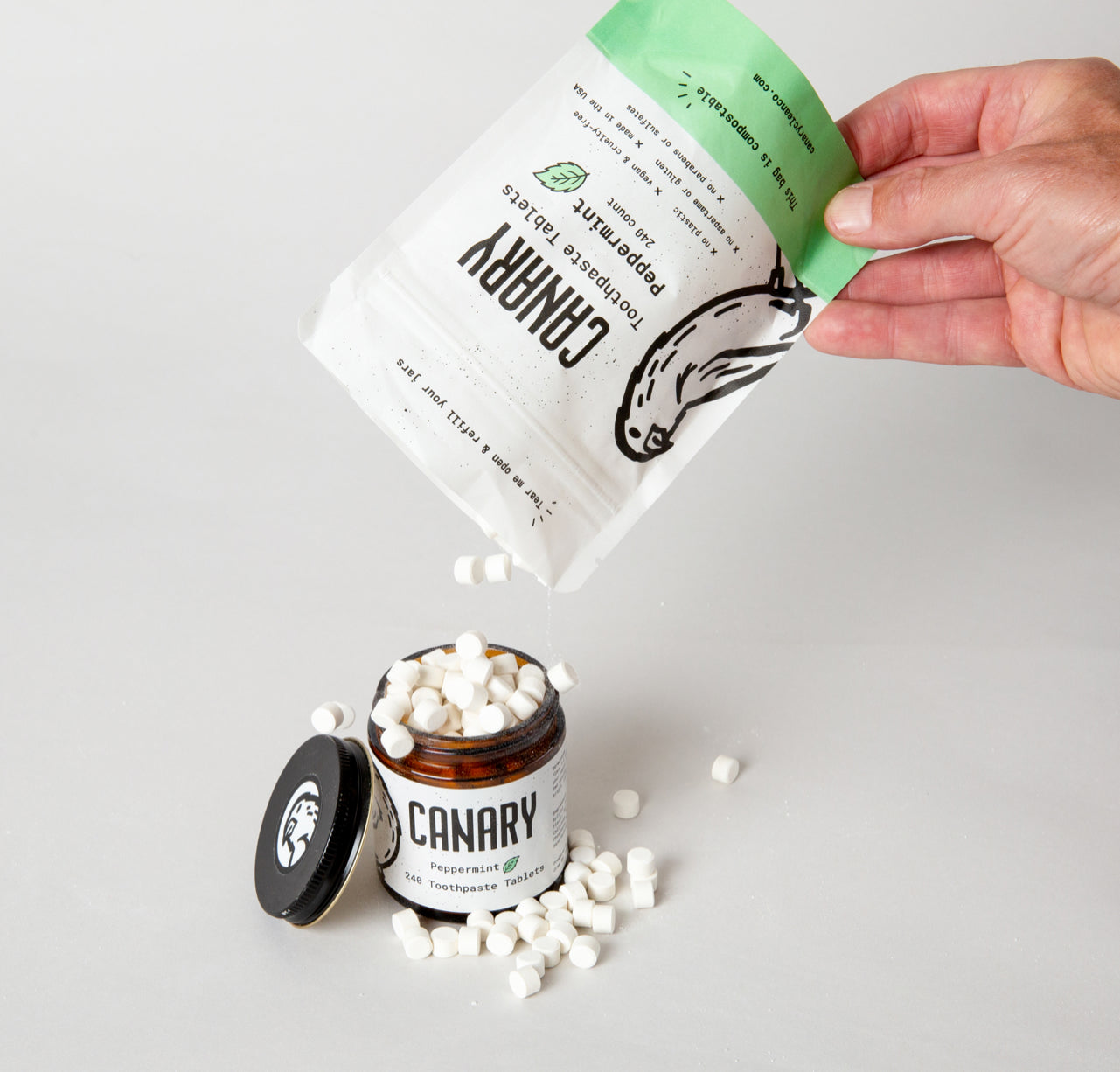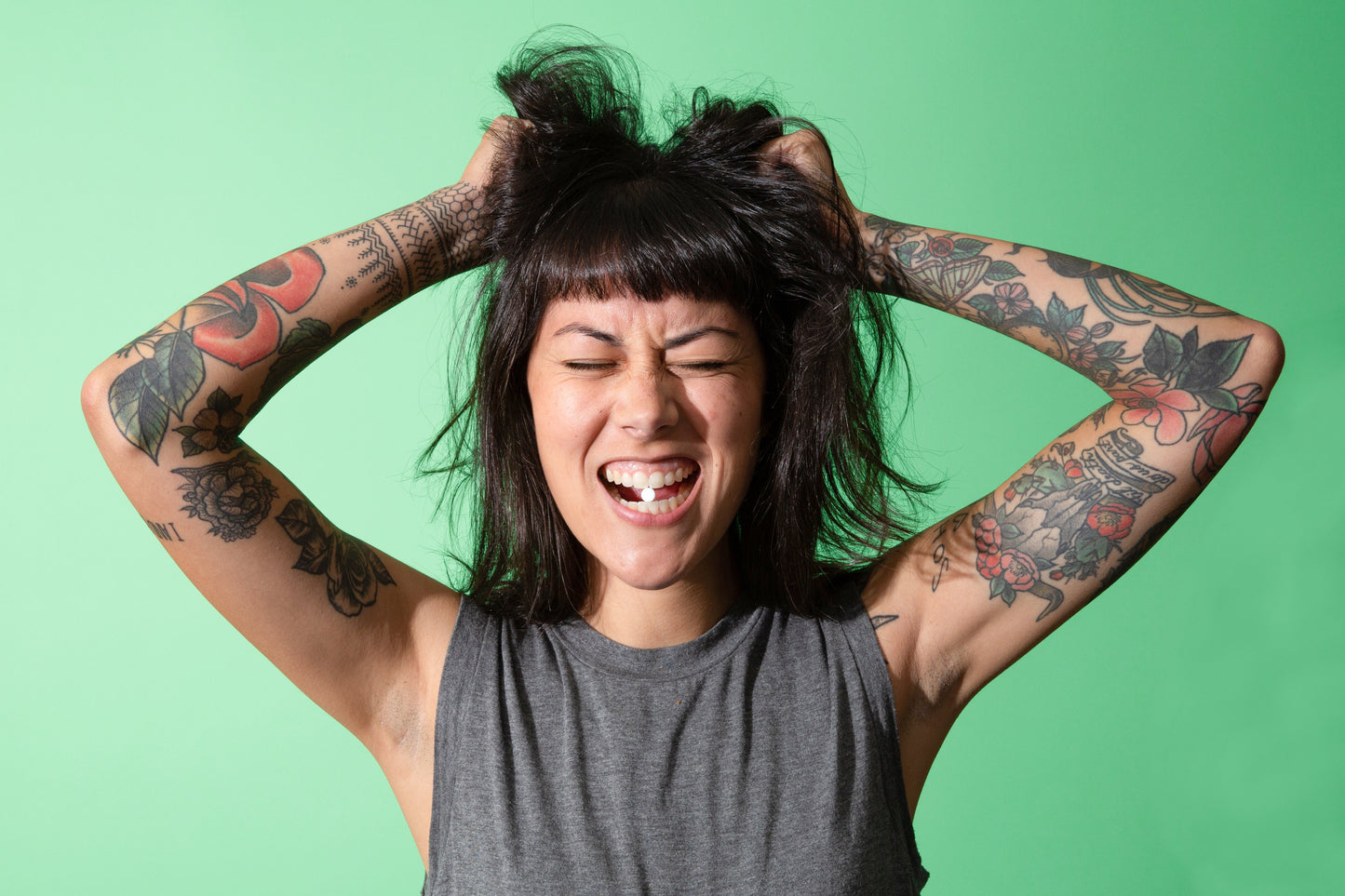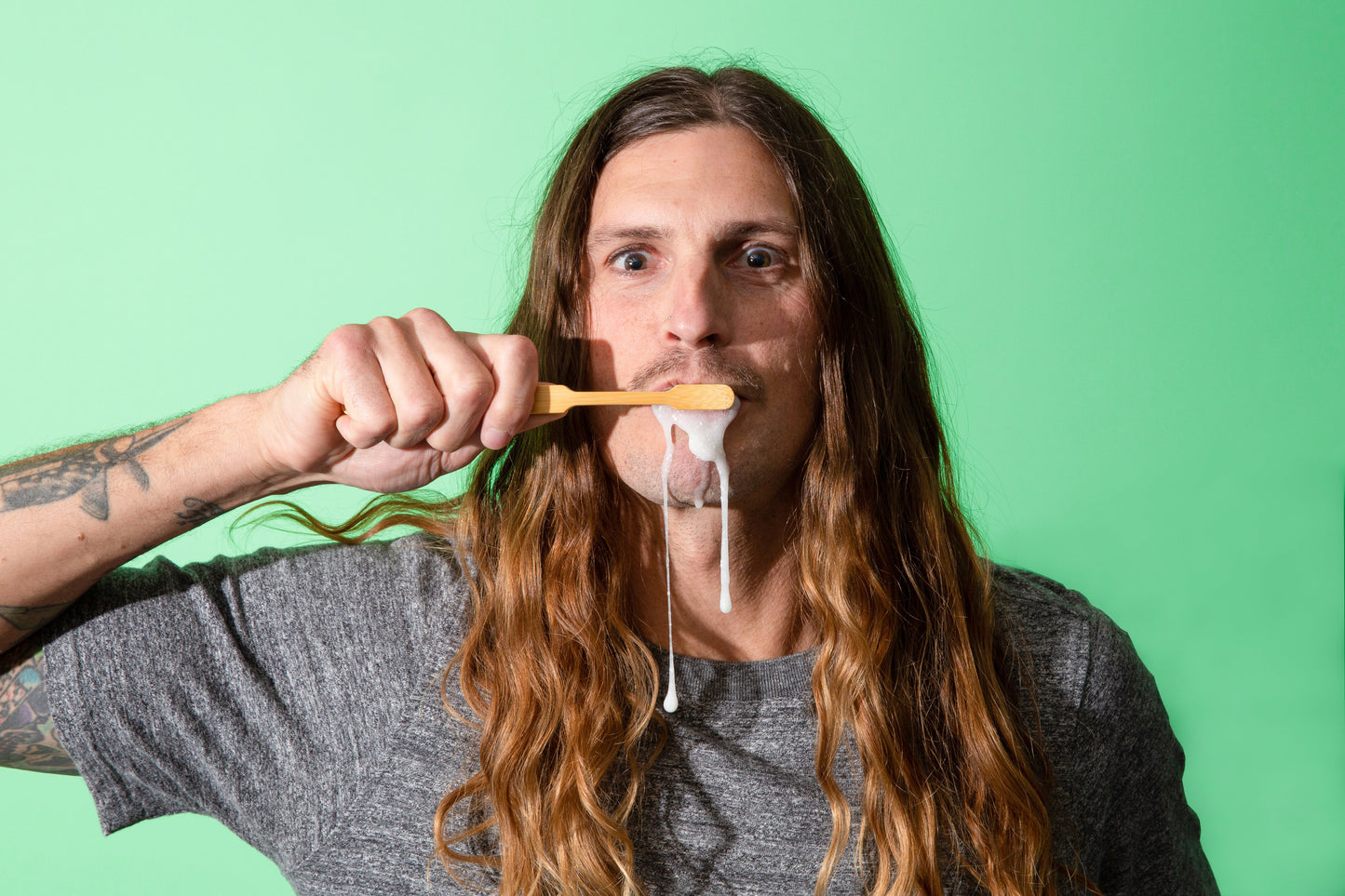 PLASTIC-FREE

No Plastic used in any of our packaging. Refillable glass jars and compostable pouches.

PARABEN-FREE

Parabens are used as a preservative in toothpastes and beauty products, but disrupt the normal function of hormone systems.

SLS-FREE

Sodium Lauryl Sulfate (SLS) is a cheap detergent additive that can irritate the skin, especially in kids and those with sensitive skin.

VEGAN & CRUELTY-FREE

We are a 100% Vegan and Cruelty-Free Brand. We love animals!

MADE IN THE USA

Proudly designed, formulated and packaged in America, in beautiful Utah.