Regular price
Sale price
$7.00
Unit price
per
Sale
Sold out
Description
How to Use
Ingredients
"I don't know if I should eat it, or bathe with it. It smells too good!" - You
The bottom line is that these soaps are awesome.  Great smell, built-in exfoliation, and long lasting. Made with all natural and mostly organic ingredients. Ditch the liquid soaps and plastic bottles and use this reliable bar soap that would make your parents proud.
Made in the USA

Vegan and Cruelty-Free

GMO-Free and Fair Trade

No gluten, no parabens and no sulfates

 #purgeplastics
Wet, lather, rinse, smell great, send it. Repeat at least daily if you want to keep your friends and partners.
Saponified Oils (Olive Oil, Organic Palm Oil*, Organic Coconut Oil*, Organic Shea Butter*) *Fair Trade
Peppermint Essential Oil
Peppermint Leaves
View full details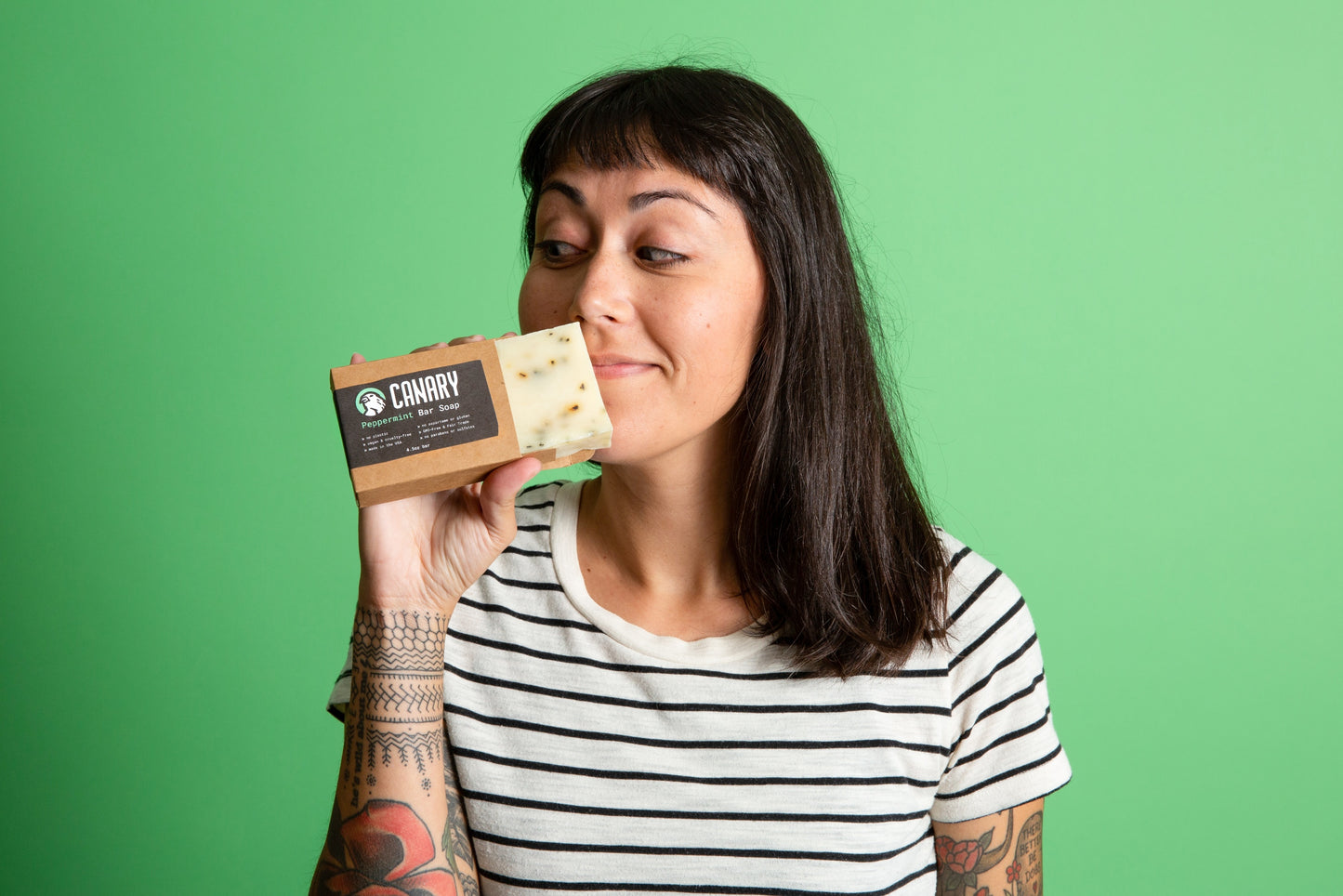 PLASTIC-FREE

No Plastic used in any of our packaging. Refillable glass jars and compostable pouches.

PARABEN-FREE

Parabens are used as a preservative in toothpastes and beauty products, but disrupt the normal function of hormone systems.

SLS-FREE

Sodium Lauryl Sulfate (SLS) is a cheap detergent additive that can irritate the skin, especially in kids and those with sensitive skin.

VEGAN & CRUELTY-FREE

We are a 100% Vegan and Cruelty-Free Brand. We love animals!

MADE IN THE USA

Proudly designed, formulated and packaged in America, in beautiful Utah.
So Fresh and so Clean!
This soap is amazing and seems to last forever! I love the peppermint tingle it creates, and leaves me feeling so fresh and so clean. I use it before all of my date nights! ;)
What a refreshing clean feeling!
This soap bar really gives you a zing with both the peppermint fragrance, the cooling feel on your skin and with the added bonus of plastic free packaging.
Tingle + Clean = Super Fresh
I love this peppermint soap. It lathers like no other and leaves a peppermint tingle all over my skin so I feel fresh and rejuvenated after my morning shower. Or if I'm taking a nighttime shower the peppermint smell helps soothe me to sleep.
I love waking up with your Peppermint Soap!
Produces a refreshing smell in my morning shower, and gets me going like that first sip of coffee in the morning. Lathers well and I love the minimal packaging for it.