Regular price
Sale price
$35.00
Unit price
per
Sale
Sold out
Description
How to Use
Ingredients
Plastic-Free Canary toothpaste tablets are an easy, sustainable way to brush your teeth at home, office, or on the go. They gently freshen your breath while removing light surface stains. The reusable glass jar is meant to be refilled over and over again in an effort to help rid our landfills of additional plastic waste. When you subscribe, we'll send you a 100% compostable refill pouch every 4 months.
This Wintergreen option is a softer mint flavor for a smooth aftertaste. 
No plastic
Vegan and Cruelty-Free
No parabens and no sulfates
No aspartame and no gluten
Fluoride-Free
No artificial sweeteners or colors
Made in the USA
#purgeplastics
Place 1-2 tablets in mouth and crush with your teeth. Brush with a wet toothbrush for two minutes. Rinse thoroughly and enjoy a bright confident smile. Brush twice daily.
Xylitol
Erythritol
Natural Wintergreen Flavor
Xanthan Gum
Microcrystalline Cellulose
Sorbitol
Calcium Phosphate
Magnesium Stearate
Stearic Acid
Nano-hydroxyapatite
Menthol
Calcium Bentonite
View full details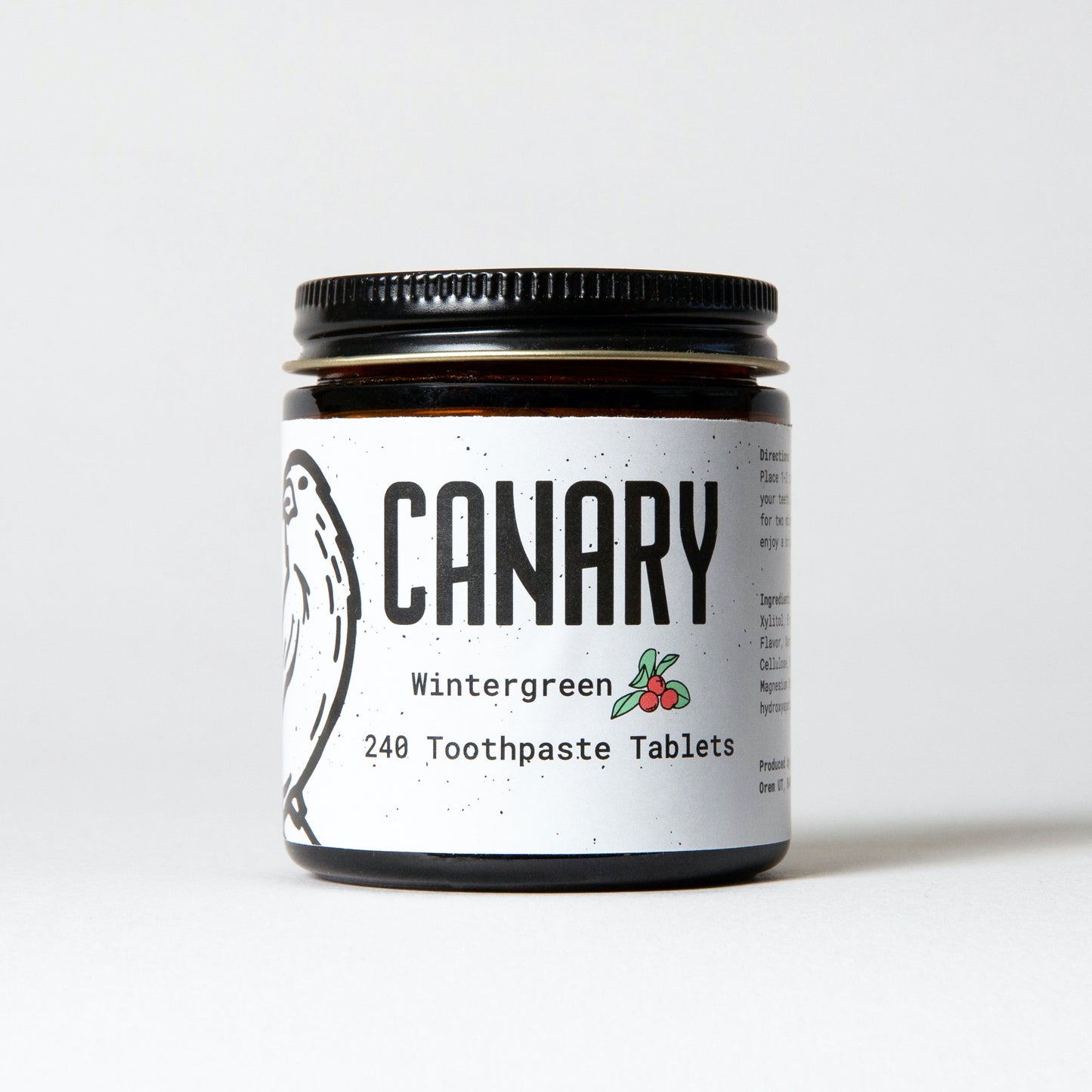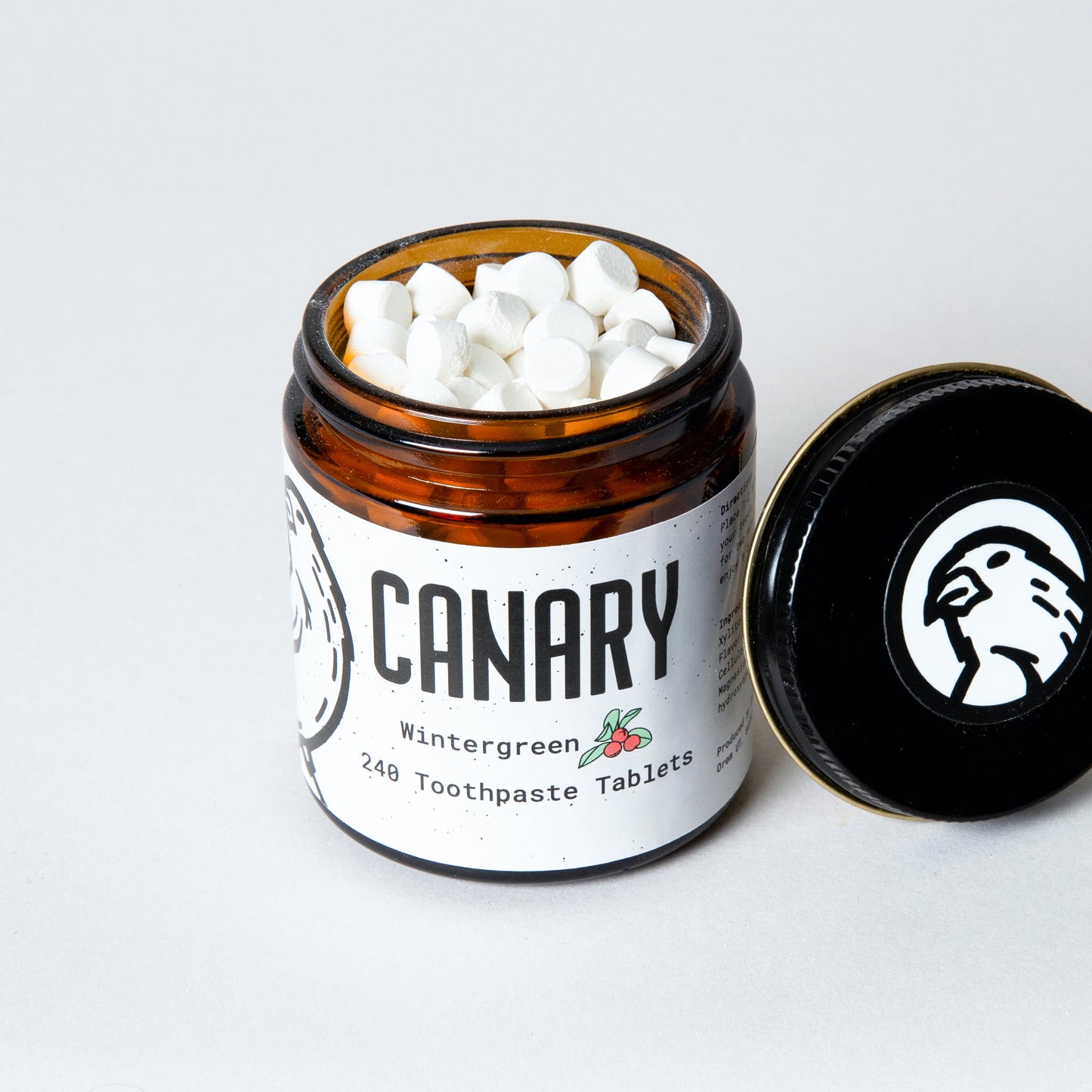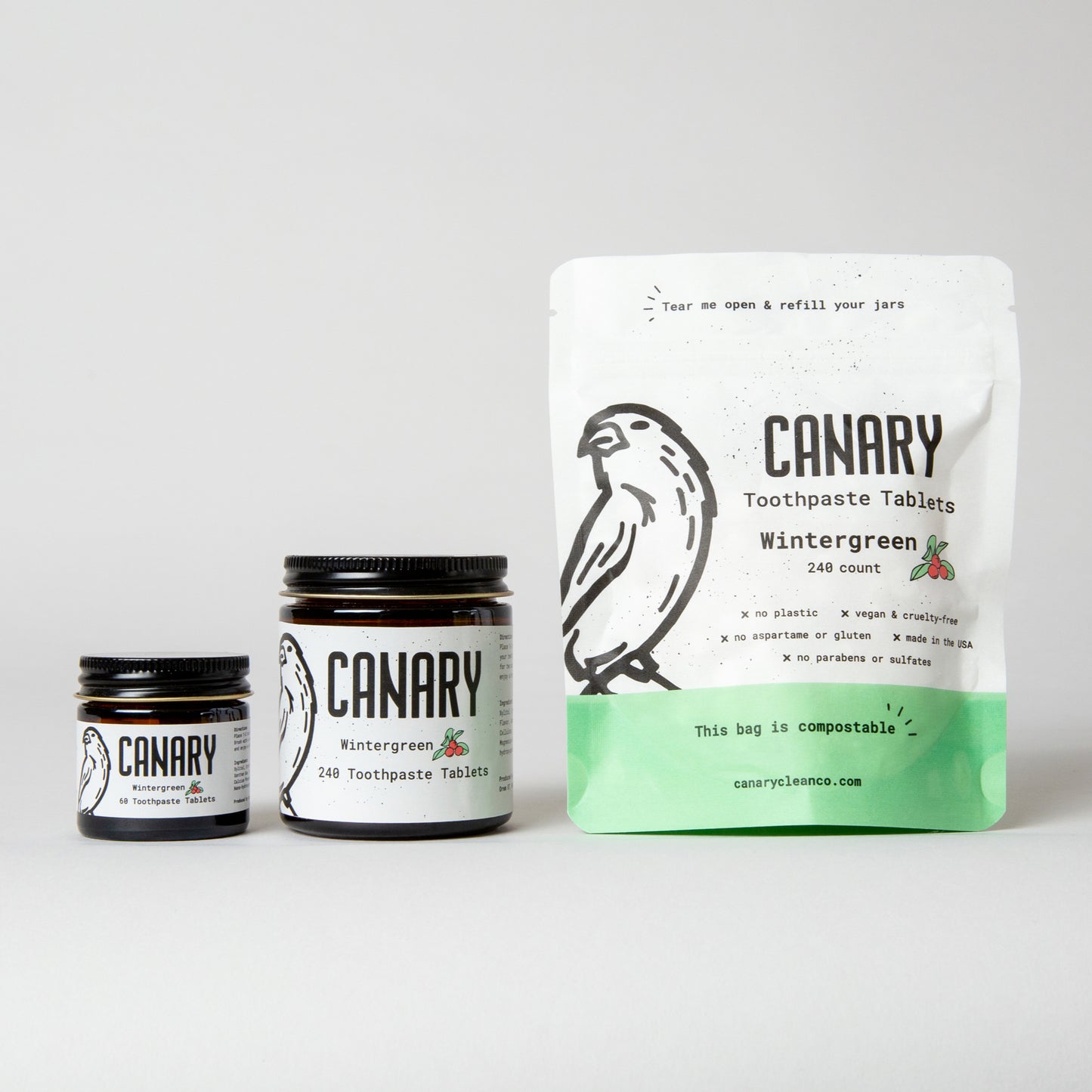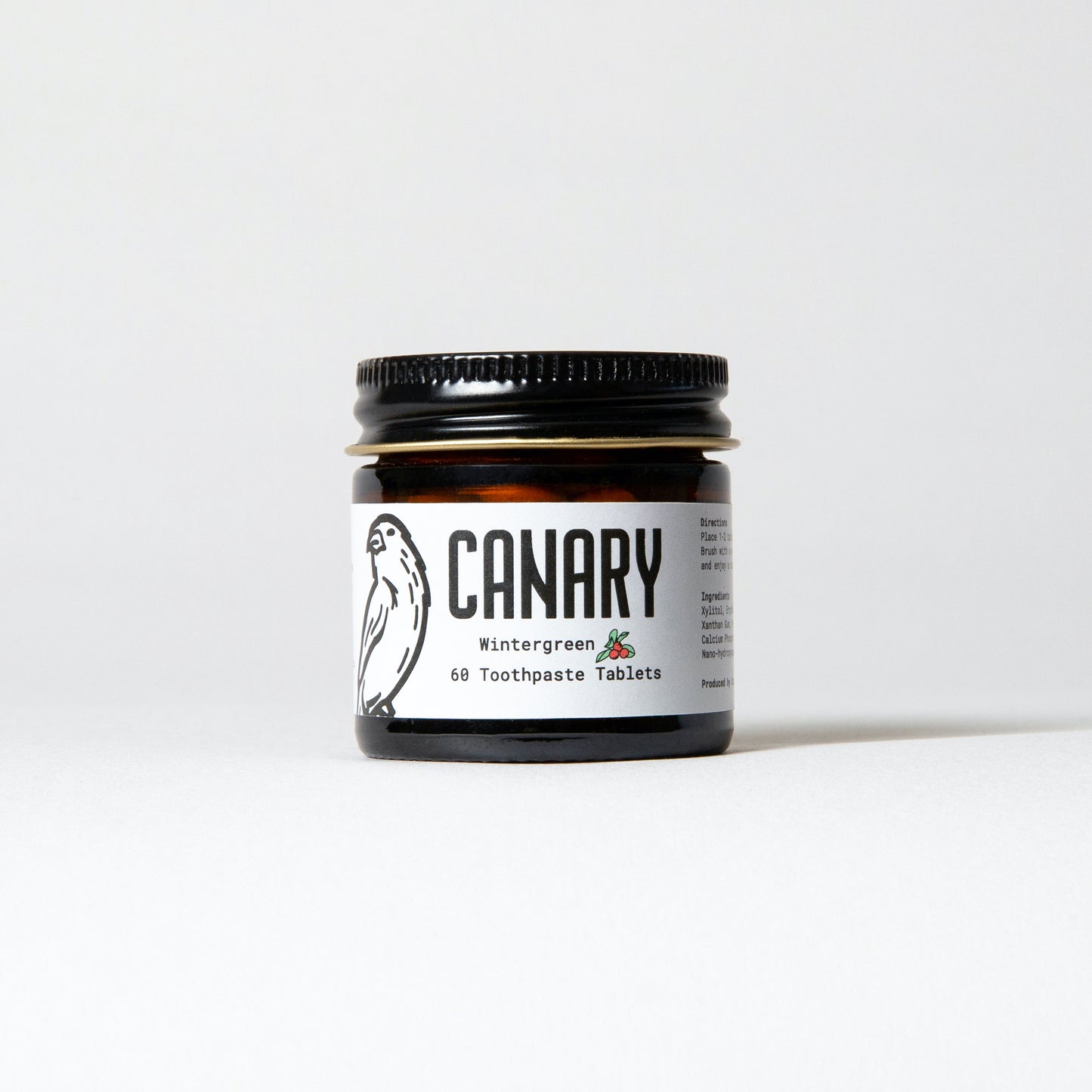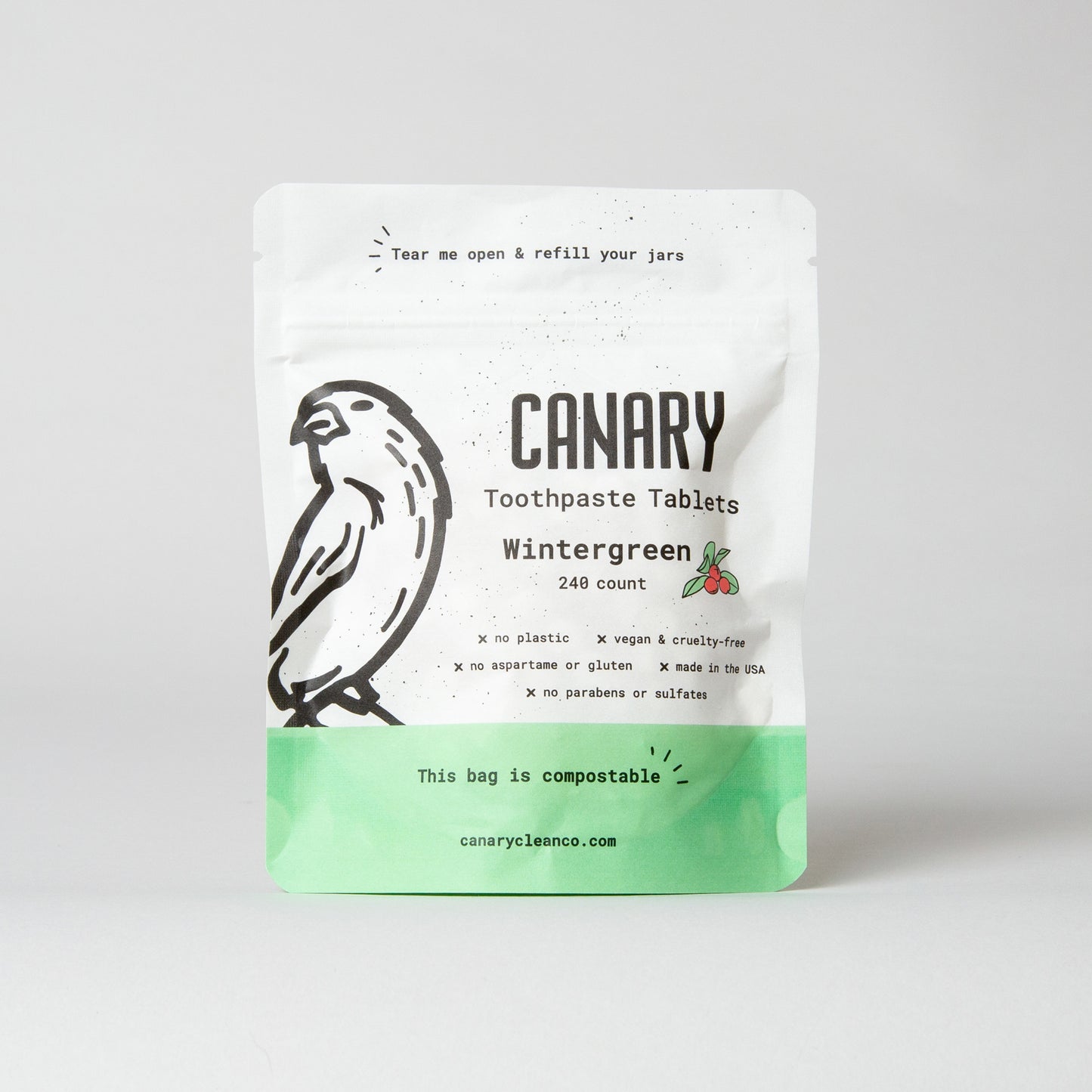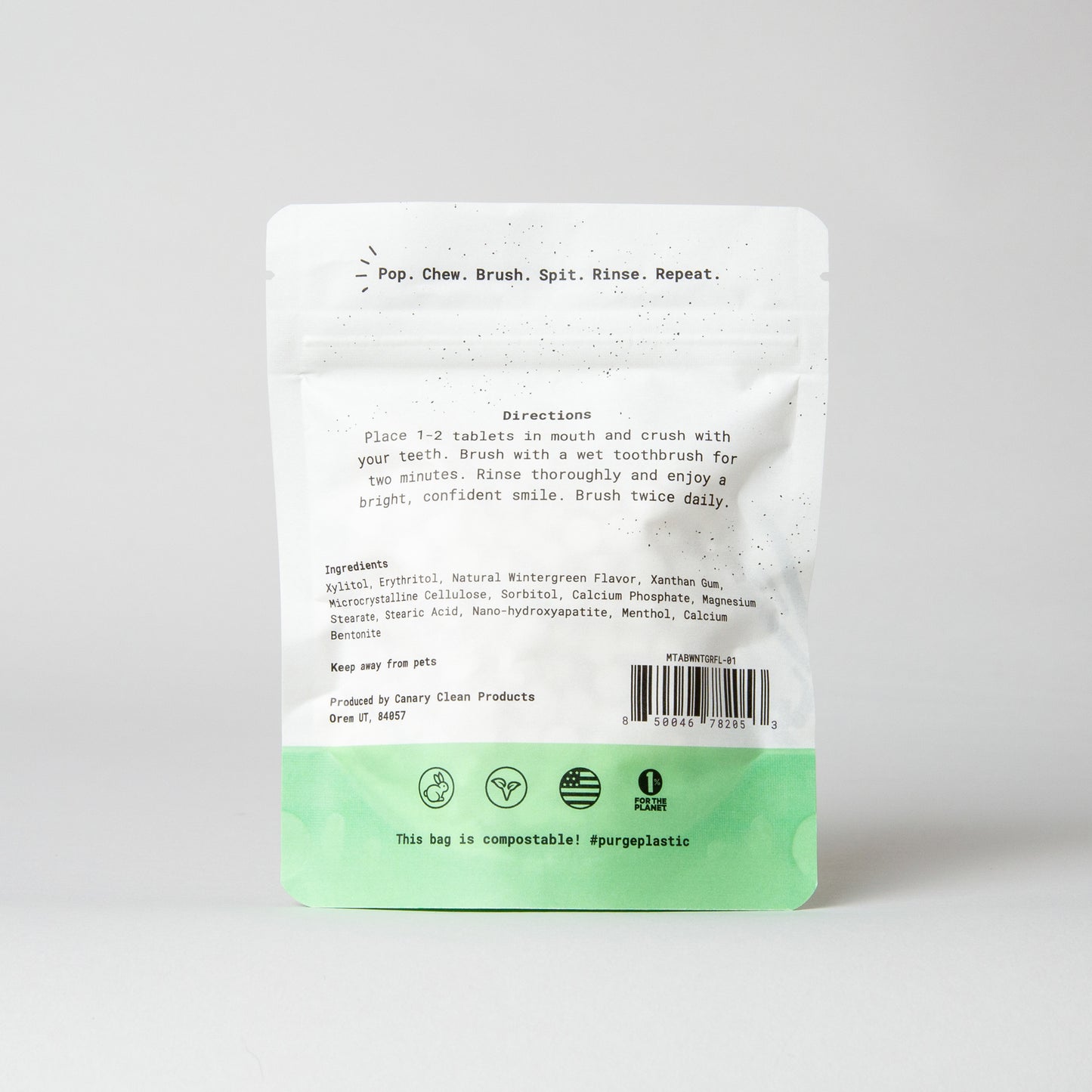 PLASTIC-FREE

No Plastic used in any of our packaging. Refillable glass jars and compostable pouches.

PARABEN-FREE

Parabens are used as a preservative in toothpastes and beauty products, but disrupt the normal function of hormone systems.

SLS-FREE

Sodium Lauryl Sulfate (SLS) is a cheap detergent additive that can irritate the skin, especially in kids and those with sensitive skin.

VEGAN & CRUELTY-FREE

We are a 100% Vegan and Cruelty-Free Brand. We love animals!

MADE IN THE USA

Proudly designed, formulated and packaged in America, in beautiful Utah.
Toothpaste Tablets
I was skeptical about using toothpaste tablets and after the first try - using only one - it took me another week or so to try them again. The next time I tried two tablets and was pleasantly surprised. They left my breath minty fresh. They didn't foam up as much as regular toothpaste, but the trade-off of not using the plastic tube is worth it. The one month test drive bottle will do well to travel with, too. Now can you develop tablets for sensitive teeth?
Love this!
I have tried other tooth brush tablets, but these are my very favorites. They crush easily and have a wonderful wintergreen taste!
Love toothpaste tablets!
This was my first time trying a toothpaste tablet and it was so much better than I had anticipated. I was expecting a chalky experience, but the tablets foam up nicely with a little water and I feel like my teeth get very clean. They are especially nice for traveling and I appreciate that I am not adding unnecessary plastic to my trash every month.
I dont like it.
The ONLY thing I like about this product is the lack of plastic packaging. That alone is not enough to get me to buy it again.
I did not like the taste, it was too weak. I did not like the lack of foam up. It did not leave my mouth feeling clean OR fresh.
I cannot see my way to purchasing this again. Not when a buck gets me a box of baking soda. Something that DOES leave my mouth feeling clean and fresh. Plus with a box of baking soda I can COMPOST the box. So ZERO waste.