Regular price
Sale price
$26.00
Unit price
per
Sale
Sold out
Description
How to Use
Ingredients
Plastic-Free Canary toothpaste tablets are an easy, sustainable way to brush your teeth at home, office, or on the go. They gently freshen your breath while removing light surface stains. The reusable glass jar is meant to be refilled over and over again in an effort to help rid our landfills of additional plastic waste. When you subscribe, we'll send you a 100% compostable refill pouch every 4 months.
This Strawberry-Kiwi flavor is the favorite for our kids and our friends' kids.  We've added natural Elderberry to add a little color and also for immune system support. 
No plastic
Vegan and Cruelty-Free
No parabens and no sulfates
No aspartame and no gluten
Fluoride-Free
No artificial sweeteners or colors
Made in the USA
#purgeplastics
Place 1-2 tablets in mouth and crush with your teeth. Have some fun brushing with a wet toothbrush for two minutes. Rinse thoroughly and give a big smile to your parents. Brush twice daily for healthy teeth.
Xylitol
Erythritol
Elderberry
Xanthan Gum
Microcrystalline Cellulose
Sorbitol
Calcium Phosphate
Natural Strawberry & Kiwi Flavors
Magnesium Stearate
Stearic Acid
Nano-hydroxyapatite
Calcium Bentonite
View full details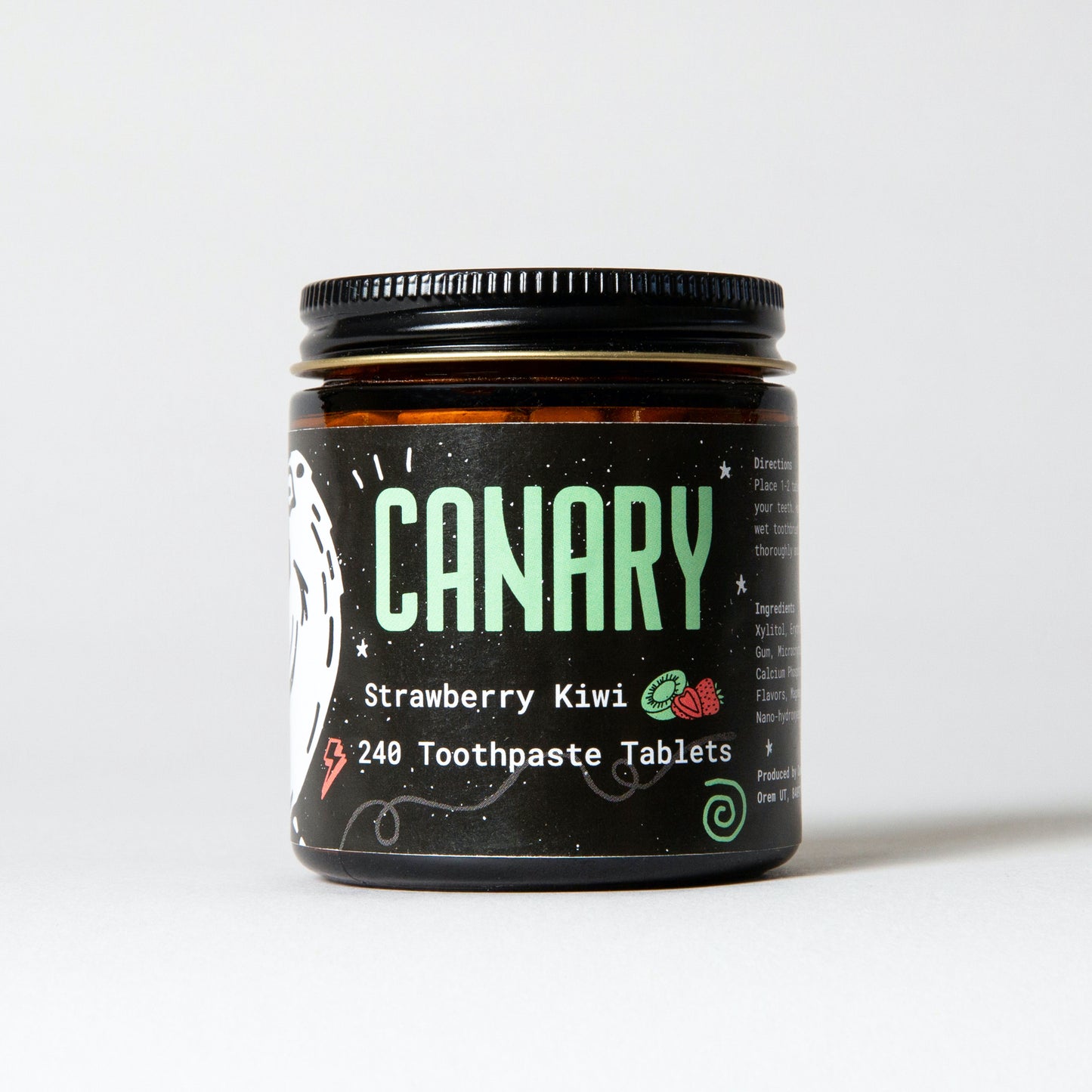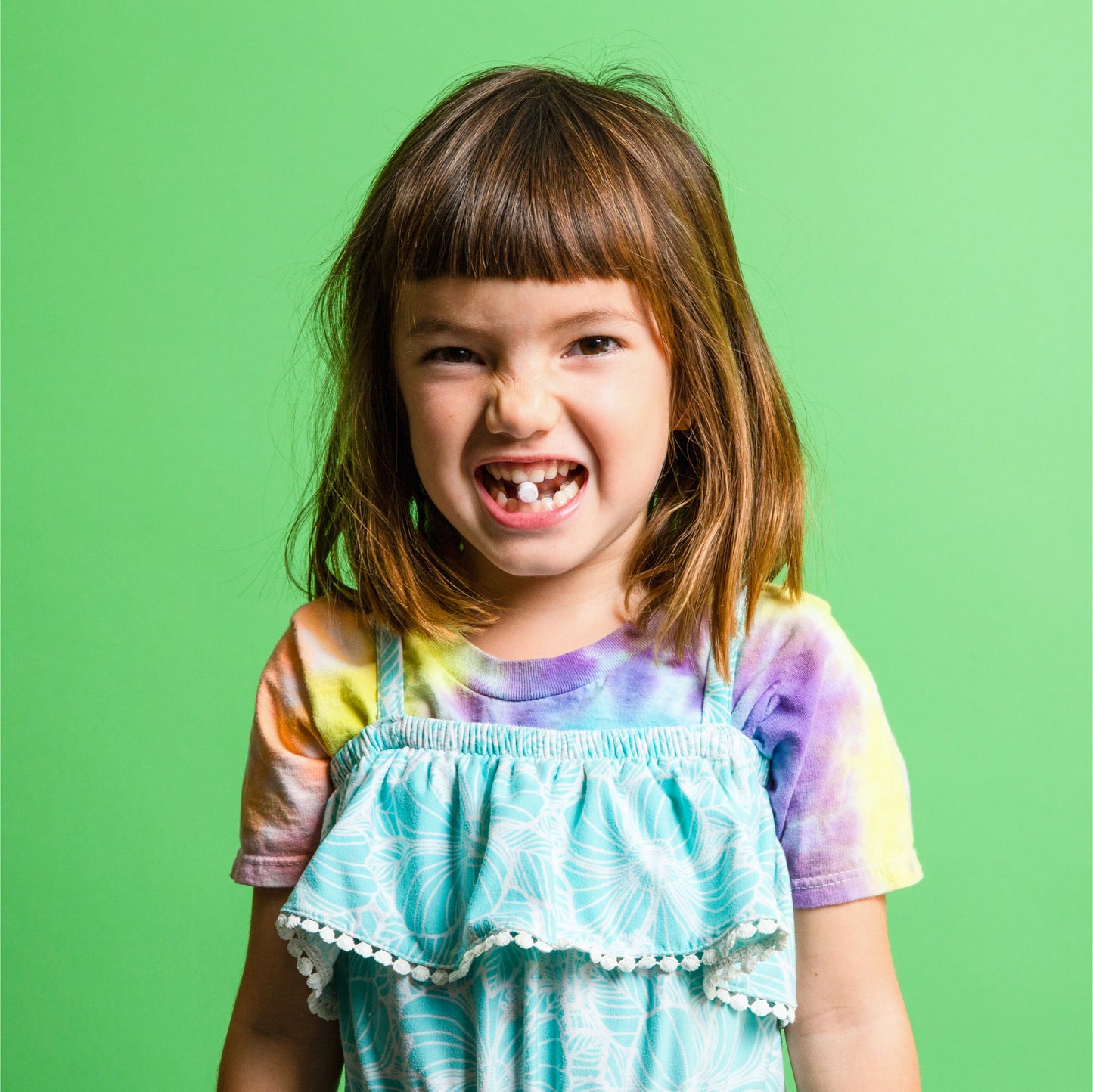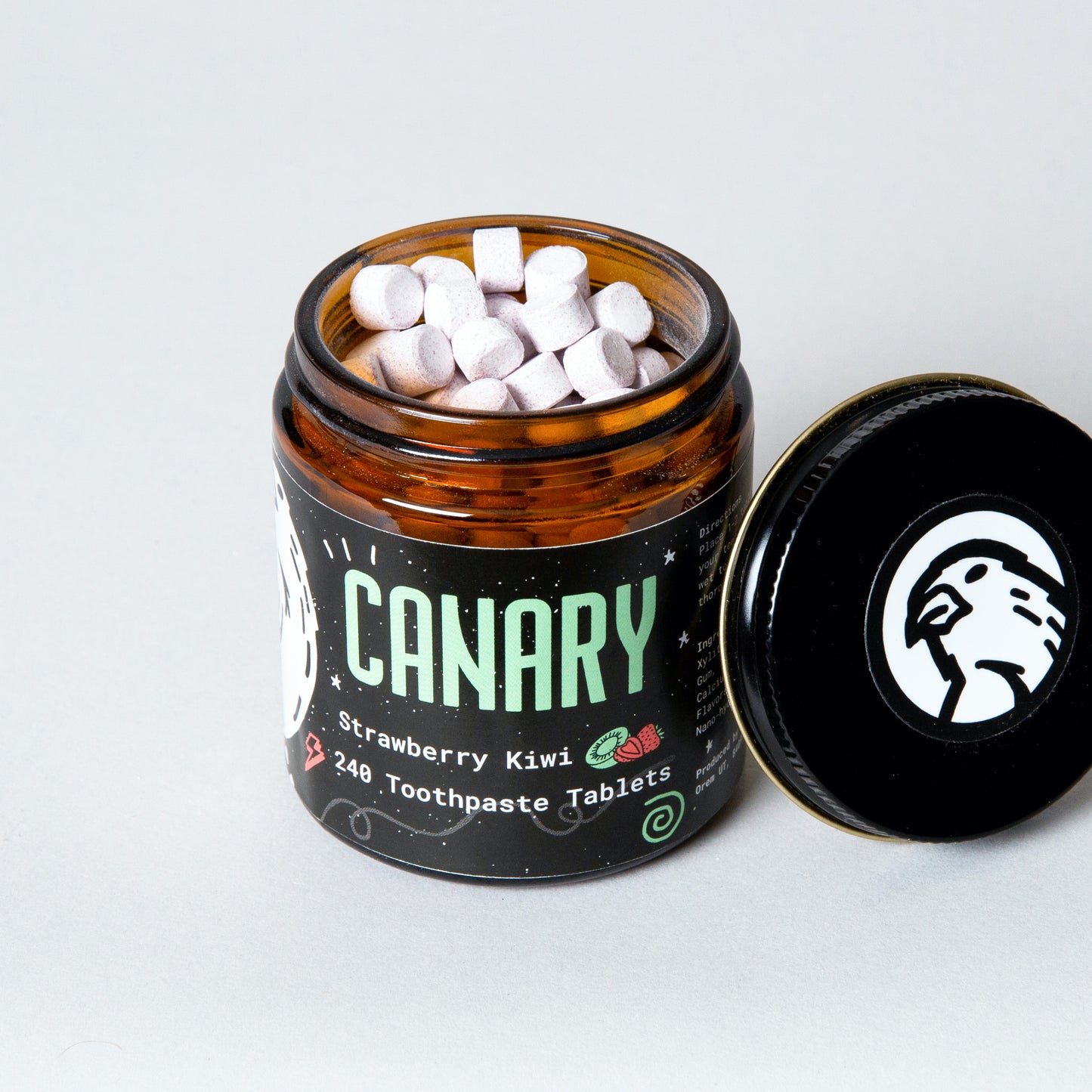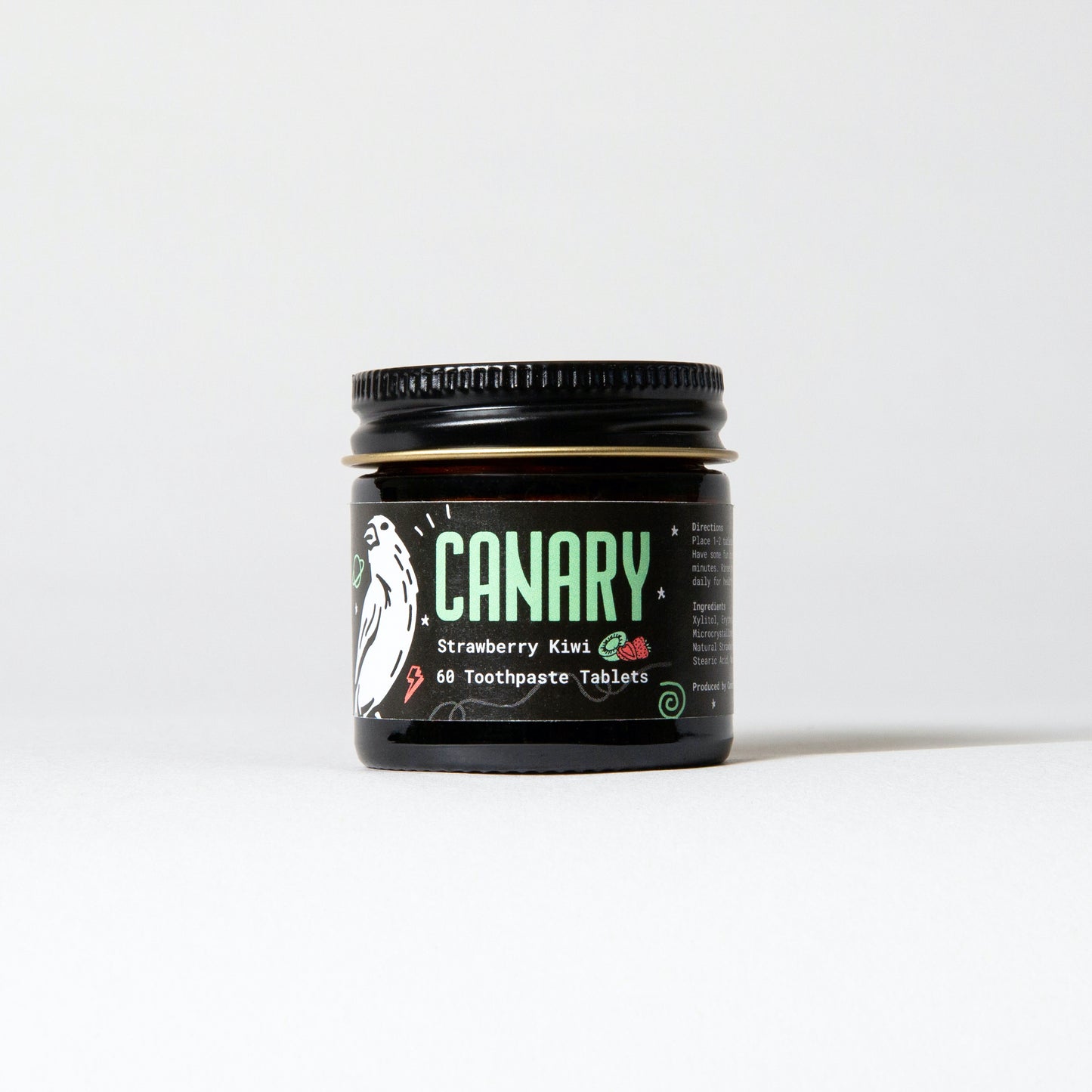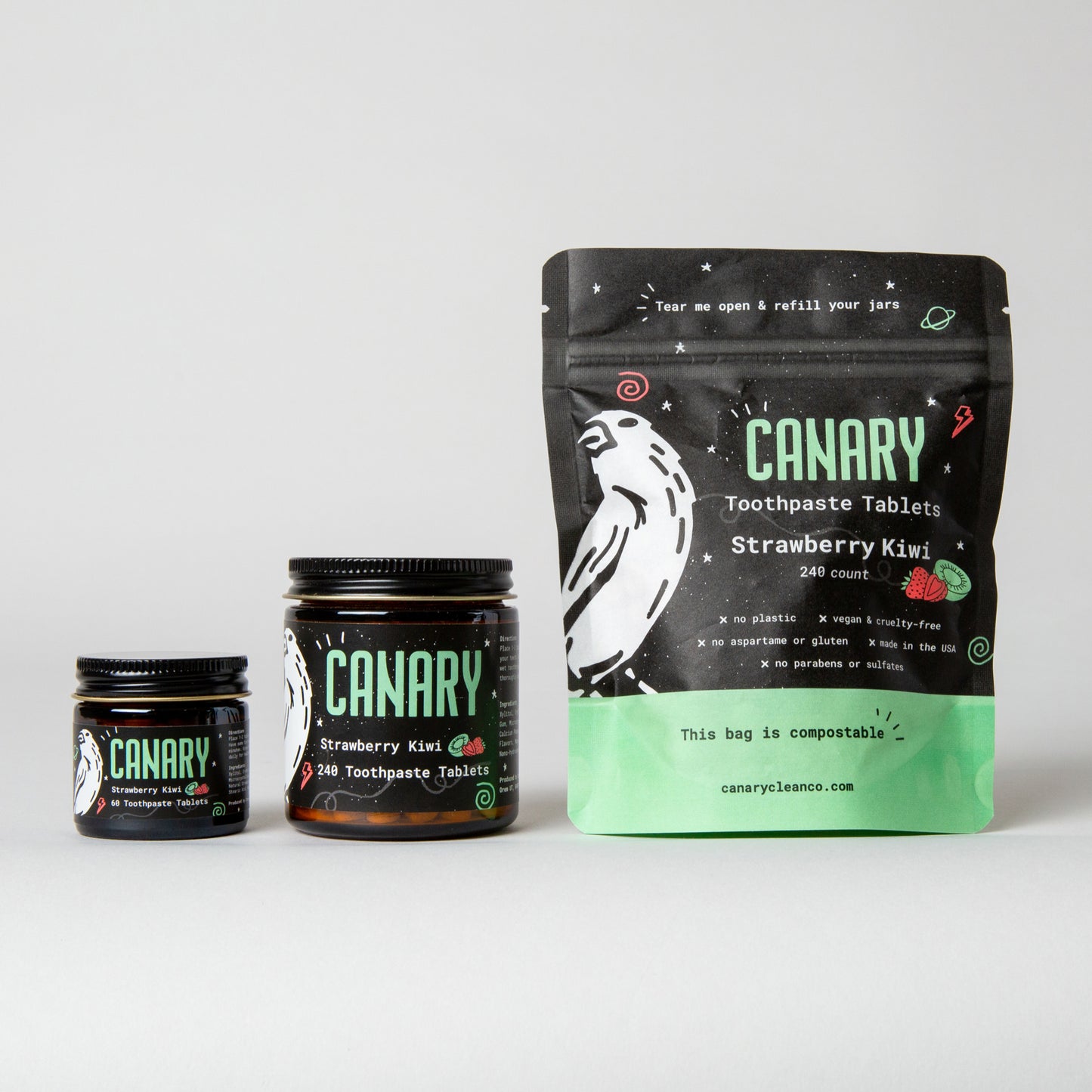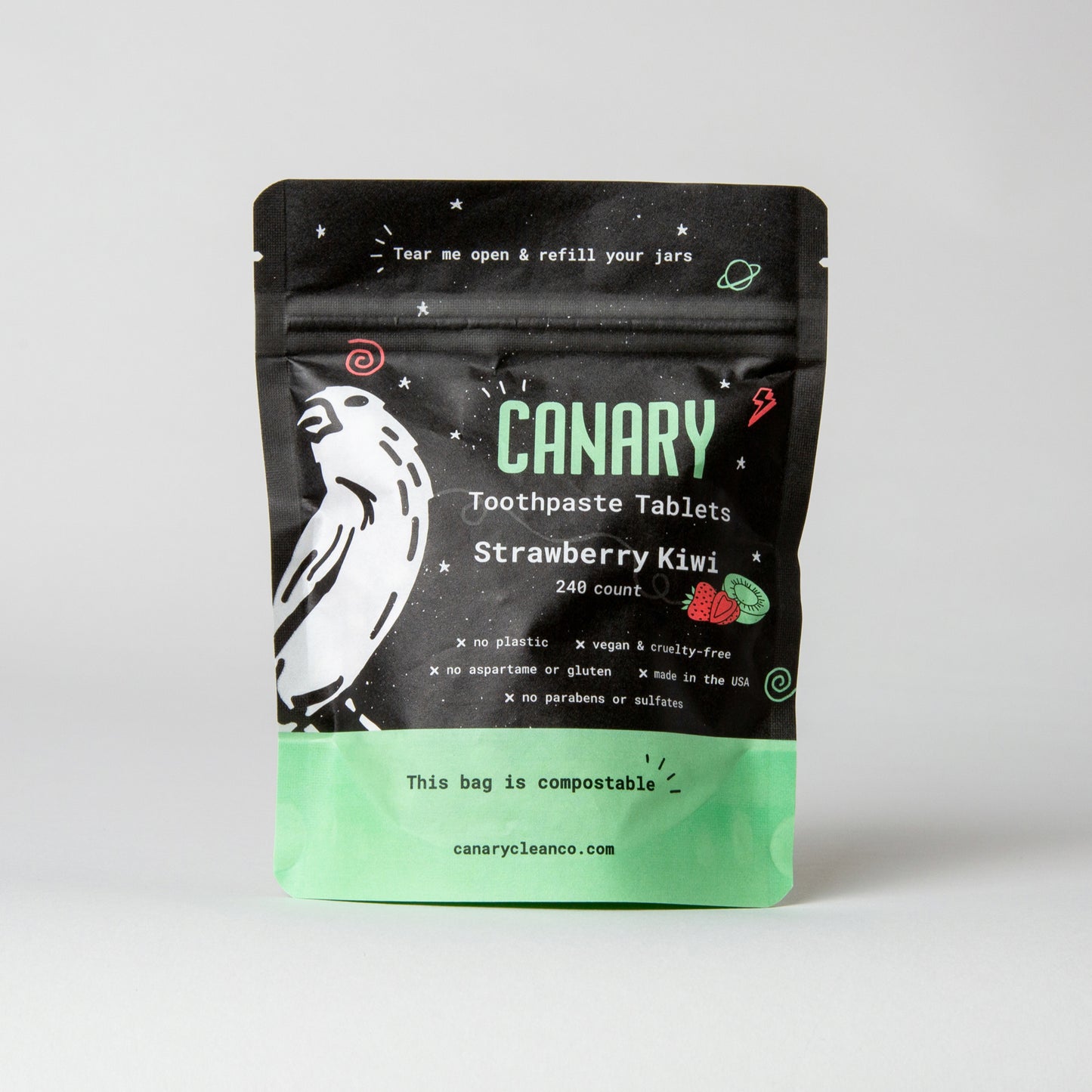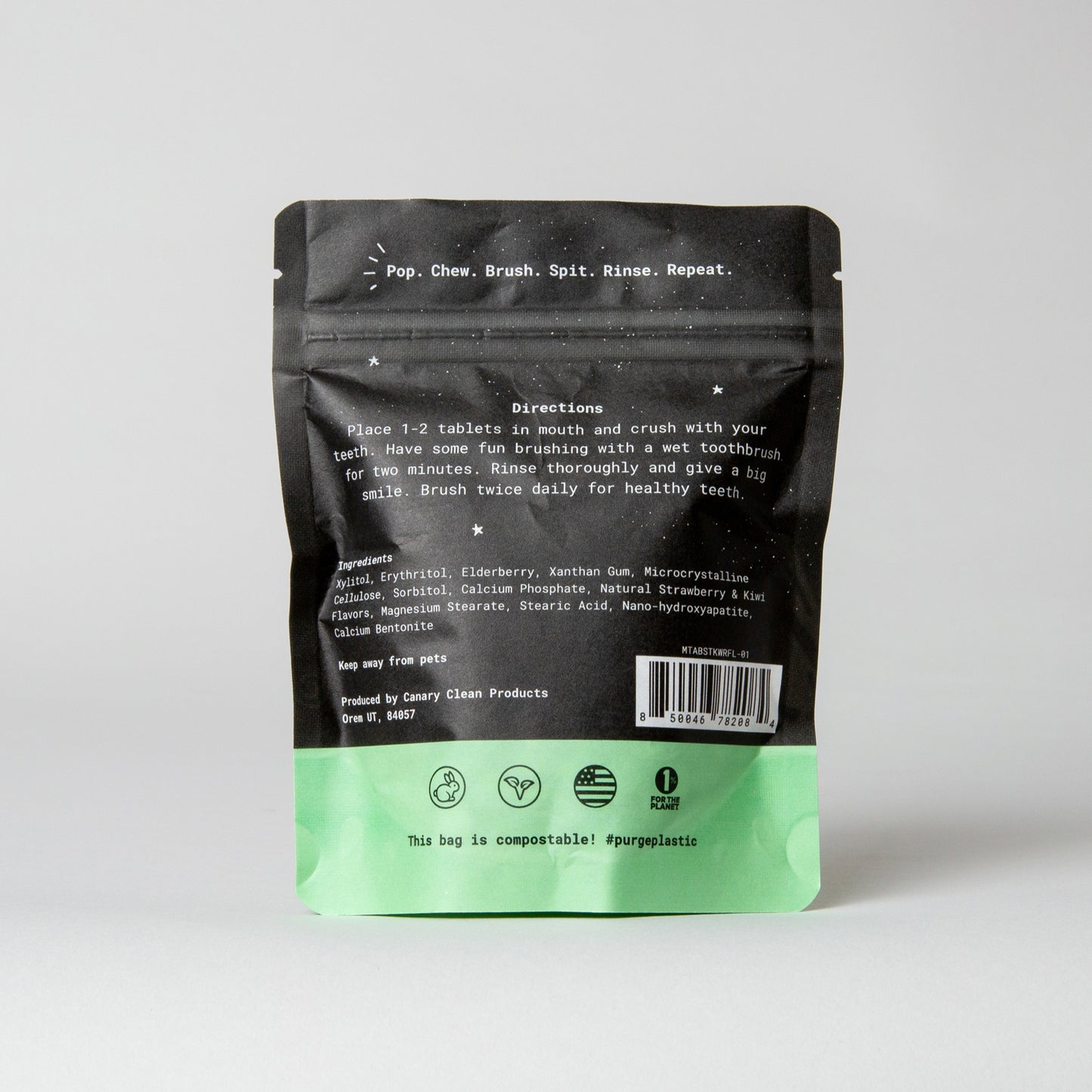 PLASTIC-FREE

No Plastic used in any of our packaging. Refillable glass jars and compostable pouches.

PARABEN-FREE

Parabens are used as a preservative in toothpastes and beauty products, but disrupt the normal function of hormone systems.

SLS-FREE

Sodium Lauryl Sulfate (SLS) is a cheap detergent additive that can irritate the skin, especially in kids and those with sensitive skin.

VEGAN & CRUELTY-FREE

We are a 100% Vegan and Cruelty-Free Brand. We love animals!

MADE IN THE USA

Proudly designed, formulated and packaged in America, in beautiful Utah.
I love the product taste like candy teeth
Felt clean . I'll give it a 💫💫💫💫💫 for
Taste I used 2 pellets the jars are convenience for it size.
Great toothpaste option for littles
This toothpaste has been a hit with my kids! They absolutely love the flavor and say that it tastes like candy. As a parent, it's a relief to see my children excited about brushing their teeth. Anything to make my kids enthusiastic about brushing is a win in my book!
My Kiddo Loves It!
It is usually hard to find a toothpaste that my kiddo likes, but this one is a hit! They are also excited that there's no messy, wasteful tube. It's going to make travel much easier now!
Great product!
I use these and I love the taste and the clean feeling
Who says brushing your teeth can't be fun?
Both of my children (ages 3 and 6) are giving this product 5 stars! No more mess of toothpaste left in the sink. No more buying toothpaste all the time because my kids use way too much! They taste great, are easy to use and make brushing their teeth a lot more fun. Thanks for making such a neat kiddo approved product!